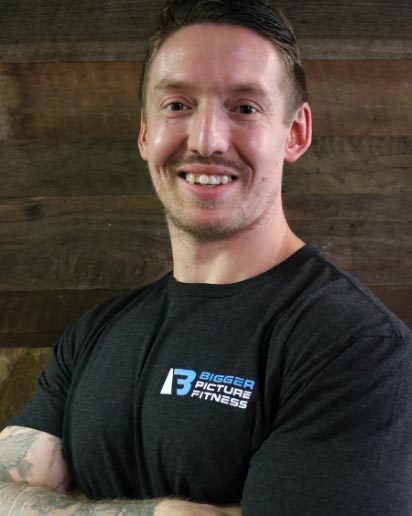 Specialization: I specialize in helping men ages 25-35 who want head-turning strength and confidence become legends.
Availability: Available for online coaching & hybrid coaching.
Hi, my name is Devin Sharp. I have been a personal trainer since 2015. My system of training focuses on building strength, mobility, and healthy lifestyle habits that will help boost your metabolism, confidence, energy, and so much more. I have trained many different ages with all types of goals and I specialize in training aging athletes and women over 40 who might be pre or post-menopausal.
A little about myself, I grew up in Pennsylvania and came to California with my wife in 2021. I have loved fitness since I was 8 years old when my grandfather gave me my first barbell. So, becoming a personal trainer was something that made sense to me but personal training took on a new meaning for me after going through a hard period of depression. I came out on the other side of that time in my life with a renewed passion to see people become strong physically and mentally. I am passionate about helping people reach their goals and love who they see in the mirror.
I am ready to help you tackle the next chapter of health in your life.
Message me about getting your first session for free!
Certifications and
Education
NASM Certified Personal Trainer
Corrective Exercise Specialist
Certified Nutrition Coach
Performance Enhancement Specialist
Women's Fitness Specialist
Fitness Nutrition Specialist
If you are interested in joining the BP Fit community please fill out the following form, including your current standing certifications and brief past work experience. Looking forward to speaking with you!