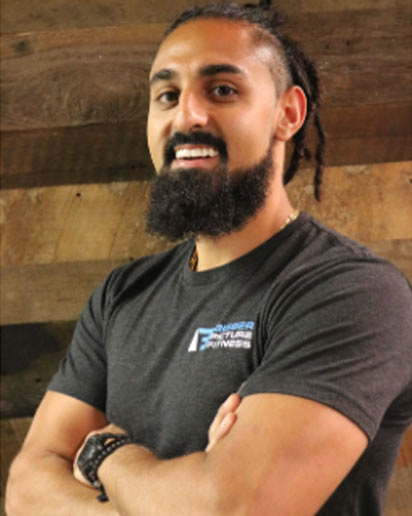 Specialization: Athletic performance training | Functional Bodybuilding | Mobility Training
Kunal Chatkara is a dedicated personal trainer with a passion for helping people achieve their health and wellness goals. With over 6 years of experience in the fitness industry, Kunal has worked with individuals from all walks of life, tailoring his coaching and training style to meet their unique needs and goals. He takes a holistic approach to fitness, with wide ranging experience in meditation, breathwork, and alternative health practices, along with physical training, to ensure that his clients achieve true wellness.
As your personal guide to functional health and fitness, Kunal will work with you to create a customized plan that goes beyond just physical fitness. He believes in the importance of making changes that carry over into your daily life, allowing you to live a happier, healthier, and more fulfilling life outside of the gym. Whether you are recovering from an injury, training for a triathlon, or simply looking to increase your overall strength and vitality, Kunal will be there to guide and support you every step of the way.

Certifications and
Education
10 Day Vipassana Meditation
Sacred Sons Men's Work Facilitator
Mindset + Meditation + Breathwork
If you are interested in joining the BP Fit community please fill out the following form, including your current standing certifications and brief past work experience. Looking forward to speaking with you!